by J.M. Frey for Monday Motivation
Those of you who follow me on social media will know that before I was a professional writer, I was a fanficcer and cosplayer. I've spoken at length about how fanfiction made me a better writer overall, and how it's served as my apprenticeship in writing for the professional sphere.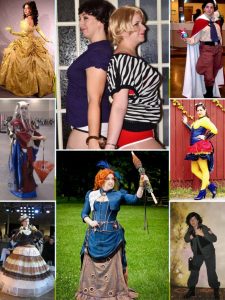 What I haven't spoken much about is how cosplay made be a better writer, too. Yup, you read that right. Making costumes and wearing them in public has made me a better writer.
Certainly it's helped me with marketing; when I first crossed the table at conventions from being an attendee and to being a guest, lots of people came up to me simply to say "Weren't you the one wearing that TARDIS gown last year? The one that lights up and makes noise?" To which I could say "Yes, that was me. Also, can I interest you in a book?"
Cosplay, however, has been more valuable to me as a writer than just as a marketing gimmick.
Using Cosplay to Improve Your Writing
In my decades of being a cosplayer, I have learned how to read and follow patterns, how to craft my own patterns, how to sew, how to paint and dye fabric, how to make and style wigs, how to apply makeup for many different looks and effects, how to alter and make props, how to wire up electronics with a battery pack to glow inside of a skirt, how to make jewelry from wire and beads, and Nihon Buyo (traditional women's dance) from a sensei in Japan.
But more than that, I've learned how to tell a story with my body and my costumes. Cosplay is more than just dressing up and walking around a convention—there's always an element of performance involved. Whether this is pretending to be a princess when little girls run up to me to hug Belle, or learning the correct posture and gait to walk in a specific manner to best show off the costume or resemble the character, or just goofing around with another cosplayer when you meet one from the same franchise, tossing quips and in-jokes back and forth, or posing together in a character-appropriate way for the inevitable Camera Tribbles that capture the moment.
Cosplay has made me a better storyteller overall, while also ensuring that I've learned skills that have helped me inhabit the worlds and daily lives of my characters.
For example, while writing A Woman of the Sea, set in 1805, I set out to create a cosplay of Jane Austen (with, happily, the help of a friend who was so much better at reading historical patterns than I am.) In doing this, I figured out how long it would take to make such a garment without a modern sewing machine, especially if I was going to do something fiddly. But I also experienced what it was like to roll my hair in rag curlers and sleep on it, and how much range of motion and freedom a regency-era corset, drawers, flat slippers, gartered stockings, and a slim overdress would have provided. (The answer – none. No wonder ladies sat around all day. They couldn't do anything else dressed like that!)
This was directly translated into the story when the heroine Jessie, who is from the twenty-first century, must eventually give up her jeans and chucks for empire-waisted gowns. And it really influenced the scene where she tries to find different clothes in which to continue her daily morning jog.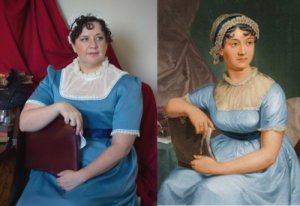 So am I saying that all writers should cosplay? Well, yes and no.
Firstly, I think everyone should cosplay because it's fun as heck.
And secondly, I think writers should find something creative to do outside of their writing. It doesn't necessarily have to be cosplay, just something.
It's healthy to take a break from writing and focus on something that isn't your story and it's world, especially when it's something else creative. It stretches your brain, and more than that, it gives your mind and body recovery time. Like working out at the gym only six days out of seven, you need recovery days for your brain, especially if you're expending so much of your creativity laser-focused on your novel. Down that path lies mental blocks, emotional burn out, carpal tunnel syndrome, bad backs, and strained eyesight.
So why find a creative hobby or side-hustle to do alongside your writing? Well, this blog series is called Motivation Monday so… to motivate you! I know, I know, you're asking how does taking time away from a book help get it finished?
Four Reasons for Writers to Pursue a Creative Hobby
Well, engaging in a creative hobby allows you to…
· Do something with your fingers while your mind percolates. I spend a lot of time thinking over plot snags or planning scenes while hand-sewing trim or kneading bread.
o Like walking a dog or taking a shower, it allows you to do something physical away from the desk, something autonomic and repetitive, or something that takes up the whole of your attention so the novelling part of your brain can relax. Writers often are struck with inspiration after a good long walk and I find other hobbies like painting, baking, or building something work the same way.
o Different kinds of creativity unlock different parts of your brain, and engaging in something else might knock something loose in your mind, or inspire a new scene.
· Learn the skills and trades of your characters. Especially if your characters live in a world where furniture, clothes, food, and household items must be made and can't be ready-bought.
o This lets you set down an accurate representation of the craft and daily routine of your characters on the page.
o Learning a craft, and your adventures while doing so, may inspire story ideas or scenes as well—especially if what you're learning takes time and patience.
· Have something to leverage for extra marketing points. It's always neat to see something the author made on the table where they're signing, or included in a giveaway package.
o If you're learning a craft that you've never touched before, you can blog/social media about your journey, and cultivate new fans and readers from your crafting followers.
o It's also a way to connect and share with not only readers but enthusiasts of the craft you're learning. If you're writing a cozy mystery about, say, a knitting serial killer, then you advertise your book to both mystery readers, and knitters.
· Be more marketable to publishers/agents. Like retired doctors writing medical thrillers, being able to prove that you Do The Thing you are writing about means that you are a thorough researcher and a reliable writer. Your work is more likely to be accurate and therefore won't need extensive fact checking and revision.
21 Craft and Hobby Ideas that Inspire
So what sorts of hobbies or crafts might be good motivation for you?
· Baking and Cooking
o Knead bread to get your frustrations out, or use the rising time to mark out writing sprints.
o Bake and decorate cakes, cupcakes, or cookies. Reward yourself with them after you've finished a chapter!
o Make the meals your characters eat, and try to do it at the same level of technology that they have, if possible, so you know how long it really takes and what's actually possible.
o Try making things you can easily buy now, but your characters may not have been able to based on their circumstances (on a spaceship, pre-industrial society, etc.) like ketchup and mustard, or jams.
o Make preserves and pickles based on the time year and what's locally available. This is especially great if you're writing a world where these sorts of things would be necessary to keep bellies full during winter.
o Take lessons on Foraging, and learn how to cook with the treasures you find. Again, this is really useful if you're writing the kind of novel where characters would be eating what they found in forests and fields.
· Woodworking
o Whittle to give your brain a break while your hands stay busy.
o Burn designs onto wooden items; these make great coasters and bookmarks. Watch tutorials on YouTube for tool and safety instructions.
o Build furniture, trinket boxes, birdhouses, art frames, etc. Especially if this is your character's job. You can get kits if you're not so handy yet.
· Papercrafting
o Origami—it's small and fiddly and needs your full attention.
o Decoupage and Collages—this can be personal, or for your book. Consider making your character's own Inspiration Boards.
o Scrapbooking—this is especially great if you're writing travel books.
· Puzzles
o Nothing better than having something entirely different to focus the whole of your attention on and stretching your brain in a new direction. I find puzzles really helpful at the stage when I'm figuring out how all the plot moments come together, or when I'm at an impasse. The Puzzle Centre of my brain is activated and usually this helps knock the plot conundrum loose.
· Metal Working
o Make neat small things to give away at launches or to reviewers – like bookmarks, or page clips in the shape of something relevant to your book's theme or characters.
o Get some jewellery wire and beads or crystals, finishers and hooks, and start making your own jewellery. Make yourself something awesome to wear to your book launch, or to give away as prizes.
· Other Kinds of Making
o Press buttons with phrases from your books, or design enamel pins.
o Learn how to make pens and craft something amazing to do signings with.
o Make candles. You can come up with a unique scene combination for each character.
o Make bathbombs and skin products. Then treat yo' self by using them!
o Paint tiles.
o Make magnets.
· Painting and art, both traditional and digital mediums
o Paint character portraits or locations and scenery from your book. Or get away from your book entirely, and focus on something else.
o Sketch, doodle, watercolour, paint-by-number, draw a comic, just make art.
o Attend a drink-and-draw or pub art night.
· Cosmetic Arts and SFX
o Learn about and practice artistic bodypainting.
o Watch beauty tutorials and practice on yourself or others.
o Or watch tutorials on horror/effect makeup and try that out!
o You can also sign up for courses and classes in your community.
· Puppetry and Dollmaking
o Build a puppet, figure out their backstory, and tell tales in your home or on social media.
o Make puppets or dolls of your characters to sell or give away with book bundles.
· Make video games.
o Use a program that helps you build a game, or watch tutorials or attend a class to learn how to make it from scratch.
· TikTok/Vine/YouTube/Snap/InstaStories
o Make up stories and sketches to film and share on social media. You could do original work, or do something related to your book.
· Community Theatre
o Go out and audition or volunteer for your local troupe. There's always an opportunity to try many different roles—act, make costumes, make sets, stage-manage, run tech, direct, produce, advertise, make props, etc. etc. There's so much to do and try and learn; I've learned a new skill every time I've been in a show.
· Make short films/webseries, if you have access to a camera. Watch tutorials or attend classes to learn how to:
o Write scripts
o Storyboard
o Direct
o Edit
o Act
· Gardening
o Make terrariums or, like me, become a Plant Parent and create a jungle on every flat surface of your house. Invest in plant care books—and take it seriously! It takes a lot of time to really groom your plants.
o Go out and start a veggie patch in your backyard or on your balcony. Grow your own food (or the kind of things your characters can grow) and find new ways to incorporate it into your meals.
o Start a landscaped garden, or learn what's best for your temperate zone and local fauna/insects, and either buy or forage the plants you need to turn your lawn into the perfect bee and butterfly garden.
· Fabric Arts
o These can either have something to do with your book, or nothing, depending on if you need a total brain break. I love this kind of stuff because once you're comfortable with it, you can let your mind wander.Try:
§ Knitting
§ Quilting
§ Crochet
§ Embroidery
§ Tailoring / Dressmaking
§ Latchhooking rugs
· Make Stained Glass
o Depict scenes from your book, or not.
o Make things to include in give-aways, like tea-light holders or window decorations.
· Dance
o Take a local class, or find one you can follow online. You may never know when you get bitten by the bug! I still tapdance around the house when I'm sure my downstairs neighbours are out and I need to shake out a day's sitting at the desk.
· Music and singing
o Take up an instrument.
o Start singing lessons.
o If you already play, try channelling your inner Tolkien and write some songs for your characters to sing in your books (because cultures always have nursery rhymes and folk songs).
o Audition for musical theatre.
o Find a local open mic or jam band.
· Propmaking
o Learn how to make fake swords, guns, armour, etc.
o Or alter existing things like nerf guns and steampunk them up.
o If there's an important item in your book—a portable time machine, a specific potion's bottle, a special necklace—take classes or watch tutorials to learn how to make the item. It'll look great decorating your signing table.
· Make boardgames and cardgames
o These can be based on your world, or not.
· Cosplay
o Combine many skills!
o Figure out what your character wears, and how it feels on a body, how they can repair it, how it might break down when put through abuse, and what it does for their posture and energy.
Volunteer or Train for Something New
Also consider Getting The Job (or at least the certification) that your character has or does. When I was writing City by Night, I got a short-contract job as a PA on a film set and learned loads about the business.
You could:
· Get your First Aid certificate.
· Become a St. John's Ambulance Volunteer.
· Become a gig-based courier, driver, or tasker.
· Get your foodhandling certificate, or take cooking classes.
· Volunteer at a:
o Shelter
o Theatre
o Library
o Community Centre
o Elections/Polling Officer/With your local representative or party
o Hospital
o Nursing Home or Hospice
o Animal shelter / adoption agency
o Prison or correctional institution
o Children's group like Girl Guides or the Girls & Boy's Club
· Take a continuing education class in:
o Language
o Culture
o An artistic hobby, such as knitting, painting, or sewing
· Get a contract position in something similar to what your character does.
o Beer vendor in a stadium
o Background extra
o Kiddie Sports referee or umpire
o etc.
· Either become or train to be a fitness instructor.
o Yoga
o Sailing
o Ziplining
o Etc.
Travel for Creative Inspiration
And of course, because travel is a real hobby for many, see what's available that is close to your book's setting and take a vacation there. Or if the book is set in the Real World in Real Cities, then visit those places.
· Go on a writing retreat.
o Look for grants and scholarships to attend.
o It can be an official retreat, or a residency, or just a house or cabin you rent for yourself or a group of writerfriends for a while.
· Go on a weekend retreat
o Indigenous and First Nations cultural appreciation weekends.
o Bare-bones / survival camping and courses.
o Go Glamping with writerfriends to brainstorm.
o Rent a chalet, a yacht, a lighthouse, a cabin, etc. located in a landscape that is similar to your setting so it can inspire your descriptions of the environment and your understanding of how characters adapt and overcome it.
I hope this has got your creative juices flowing! In the end, the point of a creative hobby is to find something that will make you happy. Something that is enjoyable, and will serve as an engaging but still creative way to stretch your writer-brain in a different direction, and flex some different creative muscles while you take a much needed break away from the keyboard. So find something you enjoy as well as something that motivates you.
You never know what you might learn, and you never know what it might inspire in your next book.
_____________________________________________________________________
J.M. Frey is an author, screenwriter, and professional smartypants. She's appeared in podcasts, documentaries, and on television to discuss all things geeky. Her debut novel TRIPTYCH was nominated for two Lambda Literary Awards, and garnered a place among the Best Books of 2011 from Publishers Weekly. Since then she's published THE ACCIDENTAL TURN SERIES, a quadrilogy of meta-fantasy novels, and THE SKYLARK'S SAGA, a steampunk adventure duology. Her queer regency historical fiction novel A WOMAN OF THE SEA was honoured with a Watty Award in 2019, and her feature film TO A STRANGER is currently in pre-production with a Toronto house. Her life's ambition is to step foot on every continent—only three left!
www.jmfrey.net | Twitter: @scifrey | Instagram: j.m.frey | Wattpad: jmfrey