Join us at these upcoming online FREE & LOW-COST SESSIONS for writers. 
Click on titles to get more info and register. Classes are co-sponsored with Mechanics Institute. All are virtual but we hope to go LIVE later this year!  Missed a Writers Talk session? Recordings of several sessions are at the bottom of this page.
---
Third Friday of the month – 12:00pm

 to 1:00pm
The Writers Lunch is a casual chat with our writers community on the 3rd Friday of each month.  You can email Taryn Edwards if you'd like to speak for a few moments about what makes your favorite book useful to your writing process.
Look forward to mini-reviews on books that have been added to our "literary craft" collection, informal presentations by member writers, and excellent conversation.
Saturday, March 27, 2021 – 10:00am

 to 11:00am
with literary agent Laurie McLean
How has the pandemic altered the status quo for the publishing industry?  Literary agent and SFWC Director Laurie McLean will fill you in on the new normal for writers in this revealing session. Be ready to take advantage of the opportunities for your book—and yourself.   This is a FREE session.
---
Wednesday, April 21, 2021 – 6:00pm to 7:00pm
Join writer CJ Verburg for a talk and slide show on where the publishing industry stands in late-pandemic 2021.  Support This Program with a donation!
---
April 23 from Noon to 1 pm.

How to Craft a Book that Sells with Nina Amir.
Learn how to write a marketable book and build your 'Author Attitude'.
Session takeaways:
1.    Learn how to discover if your book idea is marketable.
2.    Decide if you are cut out to write and market a successful book as an attractive publishing partner or savvy indie publisher.
3.    Discover what publishers and readers want.
4.    Learn 9 steps for producing a successful book.
5.    Find out why you shouldn't write your book as soon as you get the idea.
This session is offered on a donation basis!
Nina Amir is the author of How to Blog a Book, The Author Training Manual, and Creative Visualization for Writers, as well as a host of and the Write Nonfiction NOW! series of guides. She has had 19  books on the Amazon Top 100 List and as many as six books on the Authorship bestseller list at the same time.
---
Monday, April 26, 2021 – 6:00pm to 7:00pm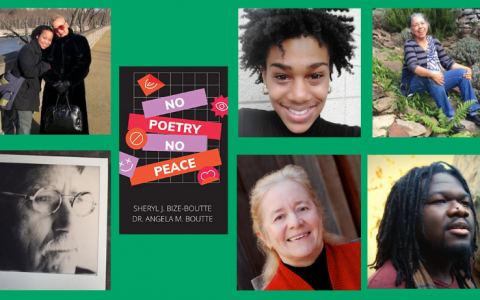 No Poetry No Peace a reading and celebration of National Poetry Month
"Poetry provides pathways for creative and cathartic human expression and peace." Join us in celebration of National Poetry Month for a reading of poems from No Poetry No Peace, a collection written by Sheryl Bize-Boutte and her daughter Dr. Angela Boutte; and a selection of local poets.   Support This Program with a donation!
---
Saturday, May 08, 2021 – 12:00pm to 1:30pm
In this workshop, authors Sheryl J. Bize-Boutte  and Joan Gelfand will guide you from storyboard creation to story narrative.  $25; MI Members $15
---
Friday, June 11, 2021 – 12:00pm

 to 1:00pm
What happens when we get stuck? When we have no original ideas and everything we write –if we are writing at all—is awful and boring? How do we keep going during those long days when family issues, financial stresses, fatigue, and career concerns, and other tough distractions peck away at our focus and time? You change your focus—process over outcome– adapt a growth mindset, and seek out the small wins.   Support This Event with a donation!
---
Friday, August 27, 2021 – 12:00pm to 1:00pm
A lively and engaging guide to vital habits of mind that can help you think more deeply, write more effectively, and learn more joyfully
Support This Event with a donation!
---
Dates to be announced soon! 
Building Your Author Platform: 10 Ways to Leverage Authority Marketing to Grow a Meaningful Brand
---
Regrettably some sessions in the past were CANCELLED for lack of attendance…
only to have registrations come pouring in at the last minute! 
Please sign up for classes as soon as possible to avoid cancellation of a class.  For MORE sessions, go to https://www.milibrary.org/events
---
---
Click on more session titles below:
Making History   A panel discussion on writing and publishing historical articles and books. Hosted by Taryn Edwards and featuring: Chris Gruener –  Cameron + Company, Laurie Krill is the west coast acquisitions editor for The History Press, Lee Bruno is an author and journalist. His most recent book is Misfits, Merchants, and Mayhem: Tales from San Francisco's Historic Waterfront, 1849-1934 and Lana Costantini is Director of Education and Publishing at the San Francisco Historical Society and editor of The Argonaut.
---
Join "OG Rev" Harry Louis Williams II, Interim Minister of Compassionate Care at the historic Glide Memorial Church and Randy Shaw, Director of San Francisco's Tenderloin Housing Clinic, for an inside look at the region's rapidly growing homeless population and what it is like on the streets now during these turbulent times. Both will speak of their writing careers. Moderated by Laurie McLean, Director of the San Francisco Writers Conference and Taryn Edwards, Librarian and Strategic Partnerships Manager of Mechanics' Institute.
In partnership with the San Francisco Writers Conference.